When it comes to installing custom closets, many people compare wall mounted vs floor mounted closets. The major difference between the two is how they are installed:
Wall mounted closets float above the ground and are attached with a steel rail to the wall studs
Floor mounted closets sit on the floor and are attached to the wall using brackets
A wall mounted closet attaches to the wall using a steel rail that is secured at the studs. These systems do not extend to the floor. Since they 'float' above the floor, cleaning or changing out flooring is much easier with this type of closet.
A floor mounted closet sits on the floor and is attached to the wall with brackets to assure that the unit can't be pulled forward. Since these systems go all the way to the floor, installation may require the removal of base trim in certain spots, or in some cases, entirely. There are structural advantages of this type of system because of the extra support of the floor. A few of these include:
The option for deeper shelving
The ability to hold more weight
Wall mounted closet systems offer many advantages:
Extra Space: This can be a considerable benefit in cramped quarters. Wall-mounted systems also offer the option to store items such as shoes or sporting equipment on the floor below, which helps to reduce closet clutter. This can help keep the space completely open.
Easy Cleaning: These types of closets are easy to clean. While floor-based systems make certain areas inaccessible to mops, brooms, or vacuums, wall-mounted systems keep cleaning a breeze.
Aesthetically Pleasing: The floating design of a wall mounted system is a natural "fit" in a contemporary home. If your house doesn't already have a modern feel, these closets floating above the floor can provide that with the right finish and hardware.
No Floor Modifications: If you have an older home with very uneven floors, it can be challenging to install a floor mounted closet. One might also have floor registers, or baseboard heating, which would make installing a floor mount system cost-prohibitive.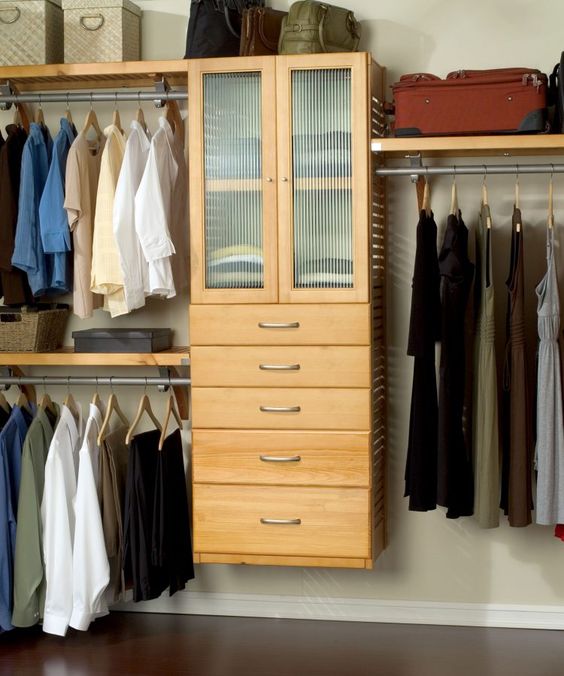 Wall-mounted closet systems have many benefits, but floor based closet systems can be a better choice depending on a few factors. Some benefits of floor mounted closets include:
Extra Storage: This type of closet offers endless stack-ability (until you hit the ceiling, of course). Folded clothing items can be easily stored and stacked in floor-based compartments, creating an efficient and compact storage solution.
Heavy Duty: They're great for their long-lasting durability. While wall-mounted closet systems safely store large volumes of lightweight items, floor-based closet systems hold heavyweight items as well.
Adaptability: Extending your system to the floor adds extra strength and storage to your closet system. If you're looking to store more than apparel in your closet, a floor-based system might be the way to go.
Flexibility: Some of the aesthetic perks of a floor mounted closet include their flexibility and overall look. Since the side panels extend all the way to the floor, customers can add or edit shelves, doors, and drawers. There's also more flexibility in the overall style of the system with options for adding more extensive doors and molding.
Built-In look: This closet style also gives a sophisticated look of built-in furniture. If you want a closet with crown molding, trim, and baseboards, this is the closet system for you.
Keep in mind…with the floor mounted closet system:
Custom cutouts for outlets and vents are required
Carpeting and molding must be removed prior to installation
If you are changing flooring out years later, the system will need to be removed and then put back in place once new flooring is installed
The Hybrid Solution
Feeling unsure of which design you should go with? No worries! There is thankfully a hybrid closet for this very reason!
A hybrid closet is a storage solution that includes both wall and floor mount types. This means that some portions of the closet will have products resting on the floor while other areas will hang from the wall.It's not uncommon to see a combination of these two systems, with some sections wall-hanging and some mounted to the floor.
At My Custom Closet, our designers are fond of this hybrid model. We will use vertical panels in the central places of a custom closet design and then place vertical panels on the sides that attach to the wall into the studs. These closets are still cut above the baseboards so they provide the "floating" look while still providing the durability floor mounted closets are known for.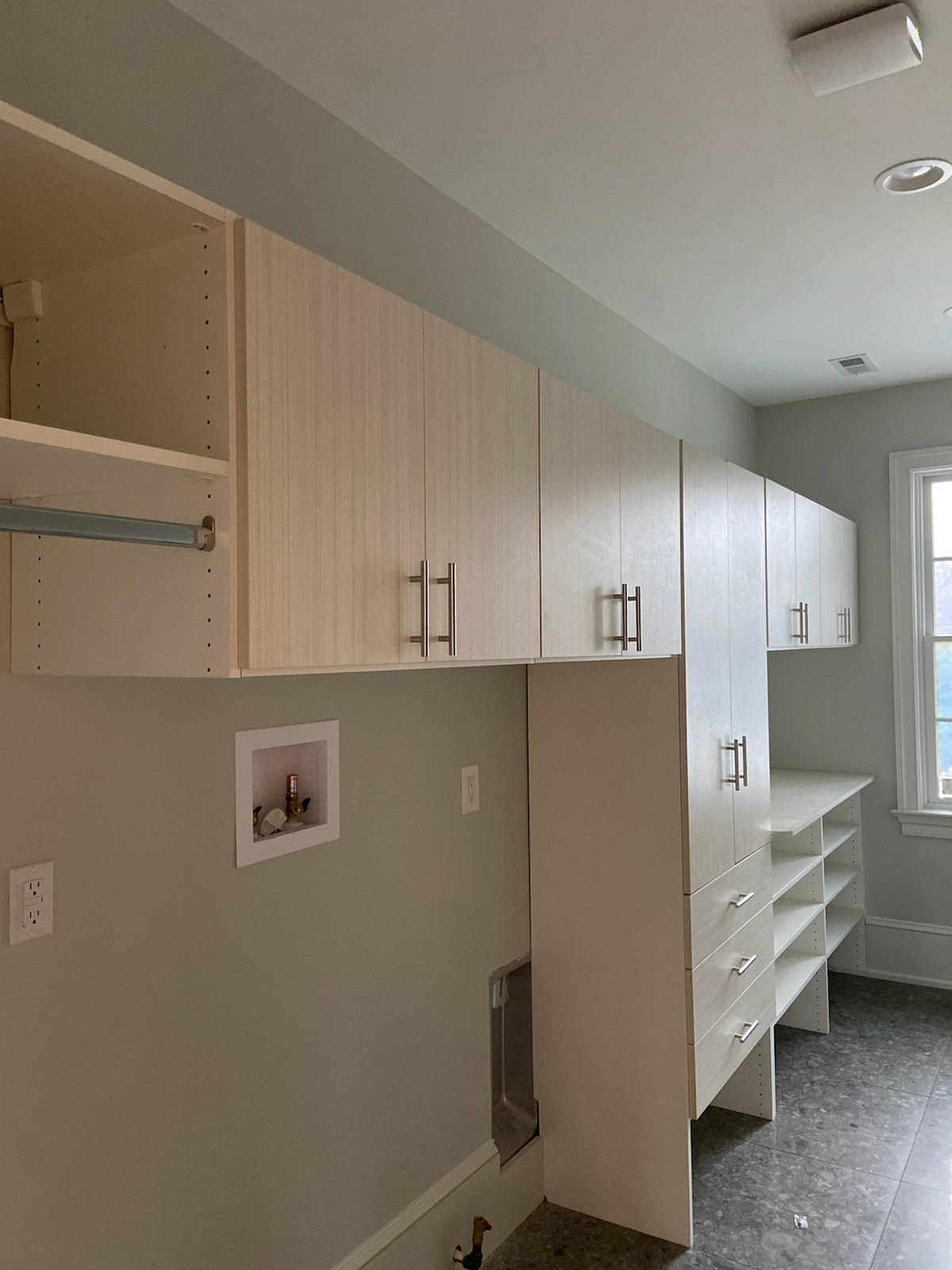 To Wall Mount or Floor Mount? That Is the Question
When comparing wall mounted vs floor mounted closets, it's important to take into account the advantages of each and the condition of the room the closet will be installed in. Wall mounted closets can complement a contemporary looking home while floor mounted closets can provide much-needed durability and flexibility. Choosing one style over another will be much easier once you know their benefits!