Occasionally, with great closet design comes a need to "ditch the doors."
Bifold and traditional, standard doors can be perfect in some situations. Other times, these doors can literally get in the way, and may even take up valuable storage space. Then there's the kids' rooms, where closet doors can be difficult to manipulate, fall off of tracks, pinch little fingers, and bump into other doors and furniture pieces in a room.
In these situations, it can be liberating to take off the doors and replace them with some simple closet curtains!
Closet curtains can be added in many ways. Decorative rods can be perfect for your room – just mount them high near the ceiling or closer to the top of the closet opening.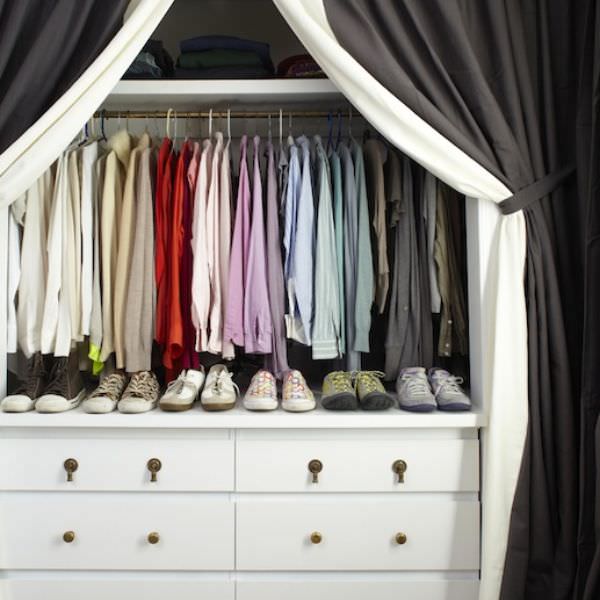 Another option is to hide a tension rod up and behind your closet opening. This is a very easy DIY project, and creates a polished, high-end look to any room. Metal rings and a metal rod are going to be the most "fluid" for opening and closing the drapes or perhaps a "track rod" and with drapery hooks.
We love the visual options drapery can add to a room. The drapery can soften a room, or add pattern and pop to an otherwise neutral space. Curtain panels can quickly hide clutter when, even with a well designed closet, you are in a rush and don't take the time to fold and hang and put belongings back the way they should be. Simply pull the curtain shut and you are good to go! The visual eyesore is immediately hidden.
If you're working with a room with an absence of drapery, shades, or valances over the windows, may look more appealing with the addition of closet drapery. Trying to revamp the entire look of a room? Simply switch out your old drapes with a new set covered in an entirely different pattern or textured fabric. It's that easy.
Closets often take a back seat to a room, and are not considered a focal point of many spaces. In some instances, this is still the way a room should be, depending on your design style and the configuration of a room. However, in other situations, a closet can actually take center stage in a room. Switching your doors can be a great way to make this possible.
Contact My Custom Closet to learn more ways to transform your storage space.