If you've been thinking about a new closet upgrade, you may have come across several DIY closet systems on the market. Perhaps you've even considered building a closet completely from scratch. The convenience and seemingly quick installation process make building a closet yourself extremely tempting. However, there are several factors to consider with this type of DIY project.
Off-the-shelf closet systems always leave something to be desired. Either the design doesn't work with your measurements or the product is poor quality. Customer service is lacking often when working with systems on your own, and you find yourself waiting long periods of time if a return or replacement is needed. Here are the main reasons clients often wish they went with a closet installation designer and installer:
1. Save Time
Designing and installing a new closet is much less time consuming when a professional is working on it for you. Plus, it makes for happier people in your home and there's less stress about the mess and getting the work done to completion.
Taking on a DIY closet project means you'll be spending your free time working. Think about how much your free time is worth – is it $50/hr? Maybe $100/hr? Factor in all the time that will be spent researching, measuring, gathering supplies, and finally, building the closet.
2. Quality
Material quality is almost always more durable and more substantial than big box stores or kits. Plus, you'll avoid the disasters that can result from installing wire shelving.
3. Layout
When the design of the closet is done professionally, you'll notice the following:
You'll have the aisle clearance you need.
The amount of hanging and shelving is appropriate for the room and its occupants.
The best use of every space – especially those tricky corner spaces! For a recent kitchen pantry project in Tredyffrin Township, check out how seamlessly the shelves wrap around the corner.
4. Lack of Tools
Unless you have experience installing interior elements in a home before, you likely don't have the necessary tools on hand to build a closet. Specialty tools are needed to make proper, clean cuts when working with melamine material. Otherwise, you may end up with pieces that don't quite fit or systems that won't attach quite properly.
5. Size
Measurements made by a professional are more likely to be exact. There is less of a chance that there is a problem with custom measured boards and if there is a mistake, the closet company will not charge you. On the other hand, if the mistake is on you (DIY), you have to go out and buy more materials to get it right.
6. Difficult Installation
Drawers are incredibly tricky to install, along with other custom built-ins like pull out hampers.
7. Warranties
Warranties are applicable to custom installations whereas DIY is not.
8. Options
Working with a professional comes with many more color choices and textures…not just white. Plus, more customizable options for storage, such as drawers for accessories.
The closet in the picture from a Chester Springs laundry room in a modern farmhouse styled home. The customer was able to completely customize their choices, and they decided on a decorative door front in a clean white look with oil rubbed bronze hardware,
9. Value
Its no secret that custom closets are a great investment and can actually increase the value of your home. With a professional closet, you can enjoy the functional storage space while living in the home and the added value when its time to sell.
10. Expertise
Hiring a professional closet company gets you a professional designer and a professional installer. Many DIY folks aren't experts in both these areas…often one out of the two categories. Professionals will know how to tailor the closet to your needs and help bring your vision to reality.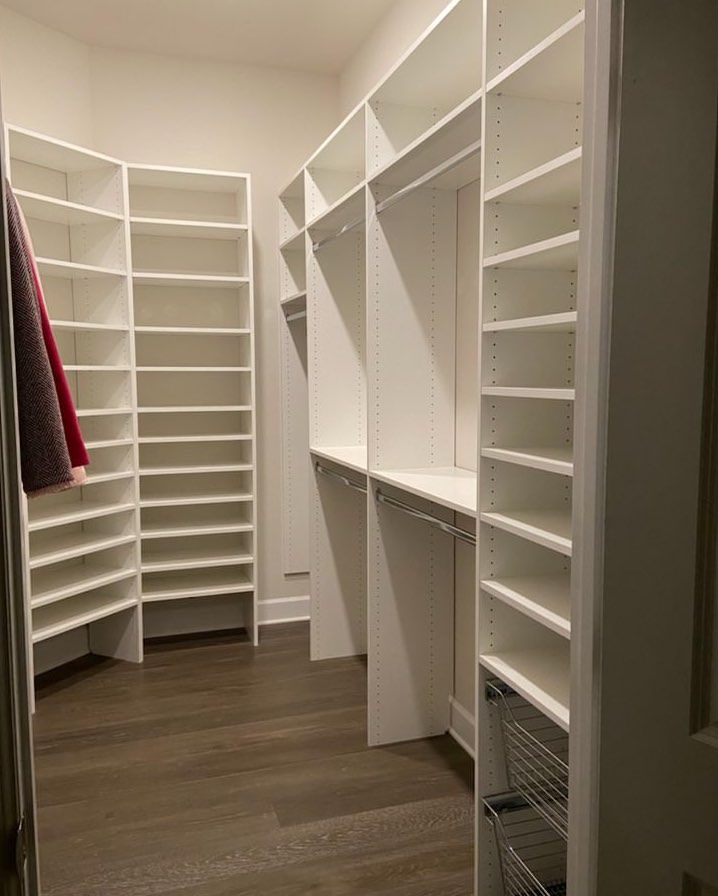 When it comes to deciding on a professional or DIY custom closet, consider your desired level of involvement in the process, the tools and experience you already have, and the overall look you want to achieve. If you're ready to work with a professional closet designer and installer, contact us to schedule a free consultation.