My Custom Closet 911
Nobody likes to come home from a long day of work or errands only to realize their closet has literally fallen out of the wall! When you have an entire wardrobe at stake it can be overwhelming trying to manage the mess. Fortunately, with our new Custom Closet 911 service, we can help you get your life back on track in no time!
Whether it's simply getting your current closet back together or working with you to design and install something brand new that's tailored specifically for you, My Custom Closet's extensive experience ensures reliable results!
Our Local Closet Emergency Service
Have you ever had your wire closet fall out of your wall? Not only can it create hazardous conditions but also an overwhelming mess!
If you run into this issue and live within a 20-mile radius of 19426, My Custom Closet will come out within 48 hours to remove the wire shelving and wall anchors as well as provide rolling racks! We will then work with you to figure out what kind of melamine design you want to put in place of your old wire.
The design can be simple and straightforward or it can be the dream closet you've been thinking about for a while. Depending on the design, your closet can be up and running within approximately 10 days. For larger closets or a walk-in space, our timeline is closer to 6 to 8 weeks time.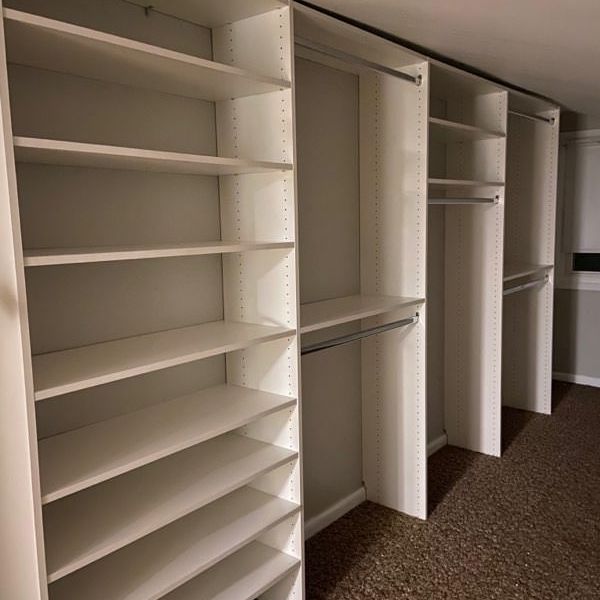 A Closet 911 Success Story
One of our friends recently used our Closet 911 service. We set them up with new, custom shelving so they could reorganize their walk-in closet. The photos speak for themselves – look at how organized everything is now that they're able to maximize their space!
We also made it a point to honor the client's request and keep their wire shelves in place. We don't normally keep these up when installing custom closets but if the unit is structurally sound and the client wants to keep them, we leave things as-is.
Closet 911 Service fees (all in one visit):
$50 Service call
$25-50 Removal of old wire (depending on the closet size)
Patching and painting the walls will need to happen between the emergency removal and the new closet installation. Most customers do this on their own or hire a painter
FREE design consultation once space is safe and cleared to measure
When it comes to something as complicated and potentially hazardous as a wire closet falling out of your wall, you're going to need some help. My Custom Closet is here to provide that help with years of experience in bringing our customer's closet dreams to life.
We use the best melamine materials and the latest in closet installation technology. With our quick turnaround time, rolling racks, and expert team, you can have a customized dream closet installed quickly with no hassle or headache.
Don't let that wire closet get you and your family into an emergency situation – give My Custom Closet a call today! No matter what kind of design you want, we can make it happen quickly and effectively – just like all of our other customers! Don't wait any longer – contact us now to get your closets done right!