Imagine a room dedicated 100% to the organization, washing, drying, folding, ironing, and hanging of clothing. All in one, single room. This would mean no more running hampers full of clothing up and down the stairs.
The good news is, this dream can become a reality. Introducing the amazingly efficient, convenient marriage of the Laundry Room and the Master Closet!
A union like this means no more clothes in folded piles on the bedroom chair. The combination of closet and laundry makes perfect sense and saves a lot of hassle. It's a love affair that is finally making a serious move towards construction and commitment – a blissful marriage with the perks of convenience, order, and practicality. This "marriage" not only benefits all types of homeowners, but it also can be particularly helpful to seniors and those with disabilities.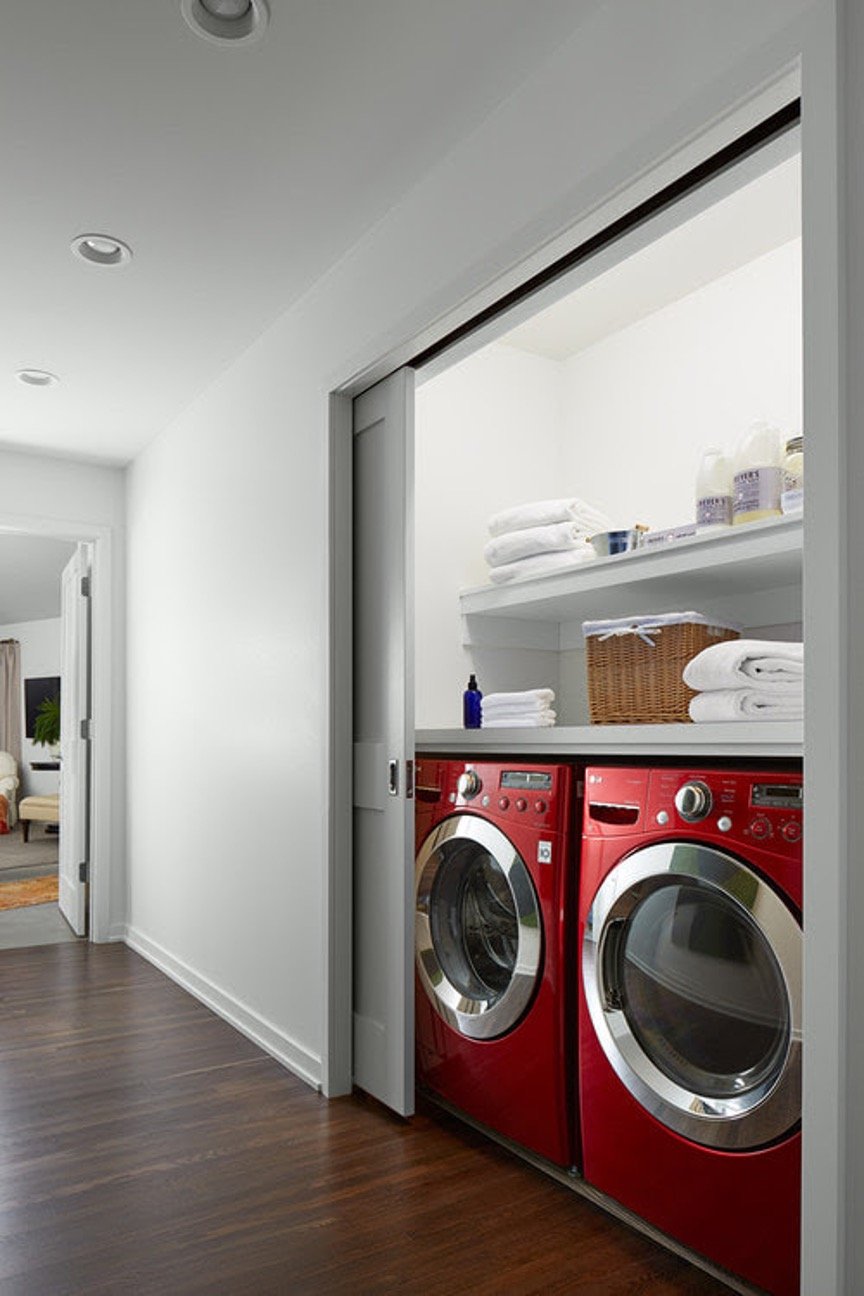 To understand the benefits of this marriage better, let's start by taking a look at the places laundry has been placed in the past. In particular, the place that became popular for washers and dryers back when most women were housewives and didn't work outside of the home. These comparisons may help you realize just how incredible the marriage of a Laundry Room and Master Closet could be.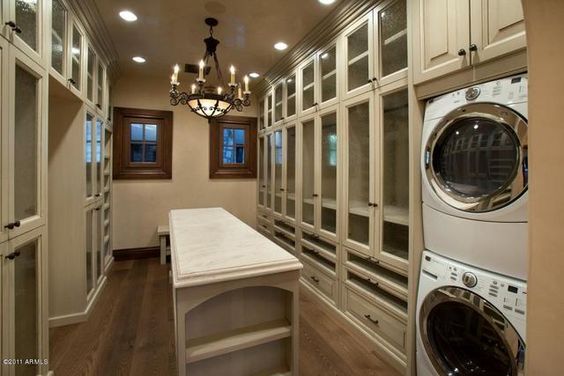 Off the Kitchen
Because most of a woman's day was spent in and around the kitchen, home builders often located the laundry room off the kitchen. This allowed women the ability to multitask: they could wash and dry clothes between other chores like cooking and cleaning in the kitchen.
If you spend lots of time in the kitchen today, whether it's cooking, hanging out, or helping your kids while they're doing homework, then locating your laundry room off the kitchen could be ideal for you. With your laundry room near the kitchen, you can get loads of laundry done (see that play on words?) while you're doing other things. This will also put you within earshot of the washer and dryer buzzer so you'll know immediately when cycles have ended and you can transfer clothes.
In a Hallway Closet
Hosting a washer and dryer in the hallway has a few pros and cons…
The Pros:
Hallways are a good place to locate the washer and dryer because they are often centrally located near bedrooms and bathrooms where clothes storage and hampers are found. This can also be a great space-saving option and hallway laundry closets are perfect for people who don't spend much time in the kitchen. Plus, this location is very convenient if you have kids. As they get older, they can practice adulting by doing their own laundry right in the hallway!
The Cons:
One of, if not the biggest disadvantages of putting your washer and dryer in a hallway is that you won't have a lot of room to sort dirty laundry or store clean piles of laundry. This limited space can also block traffic and can be an eyesore if it is seen by visitors. In addition to this, if your hallway laundry room is on the main floor and most of your bedrooms are on another floor, you could be taking several trips up and down the stairs.
All things considered, if you do choose to put your washer and dryer in a hallway, try to make it one that's near most of your occupied bedrooms.
In the Basement
17% of homeowners say that the basement, finished or unfinished, is the best place for the laundry room. This out-of-the-way location keeps the noise level to a minimum and a built-in laundry chute can solve the problem of schlepping dirty clothes down a few flights of stairs.
In the Garage
If you're short on space, the garage is a suitable backup location for a washer and dryer. In fact, 12% of homeowners say they prefer to keep their laundry machines in the garage. It's certainly a better option than a stackable unit in the bathroom, hallway, or kitchen closet, where piles of dirty clothes can get in your way. If you choose to use the garage, you just have to be extra careful not to drop clean clothes on the not-so-clean garage floor.
Back to the Master Bedroom
Now that we've covered these popular areas for keeping laundry machines, doesn't the Master Bedroom Suite seem like a great place to put your laundry? It is one of the most practical locations you can set up your washer and dryer. It doesn't get much easier than taking your clothes from your master bedroom or bathroom hamper, turning a corner, and putting those dirty clothes in the washer. Then it's as simple as pulling clothes out of the dryer, folding them, and walking a few steps to put them away in your closet.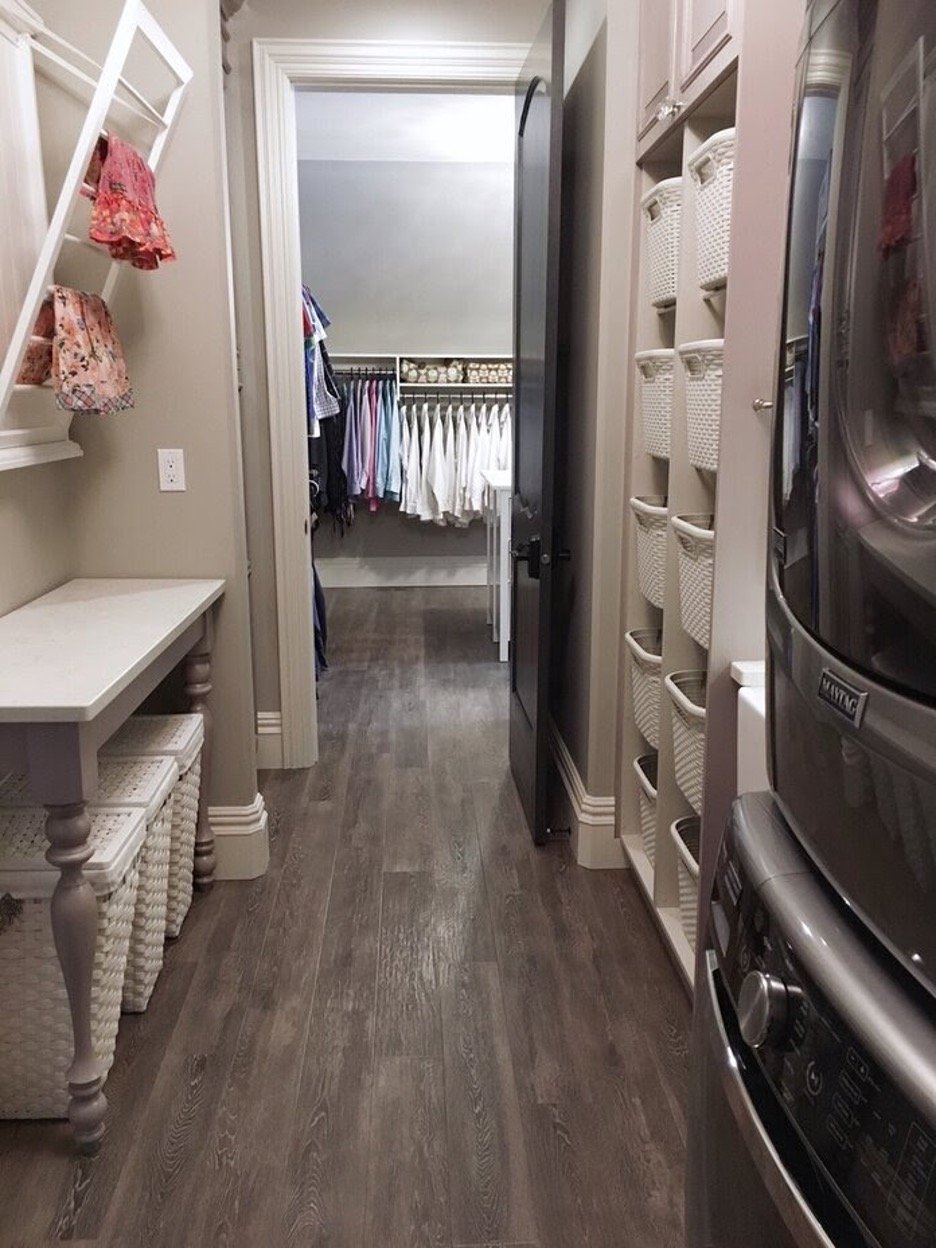 Consider the Kids
Putting the home's laundry room in your master suite area may not work for your household if you have children who are, or will soon be, old enough to do their own laundry. You wouldn't want your kids cutting through your bedroom or bathroom every time they want to wash clothes. What you could do, though, is locate the laundry room in a space that is accessible from your master area and from a public space like a hallway. That way, children can easily get to the washer and dryer without disturbing you.
If You Have the Budget…
Alternatively, you can have a laundry room in your master suite area, and put a second washer and dryer in a hall or bathroom closet near your children's rooms. This would work especially well if you are building a forever home and have older children who will be moving out in the not-so-distant future. That way, you'll have the convenience of your master laundry area forever, and you can sell the kid's washer and dryer once they've moved out. Or you can leave their washer and dryer there so when they are adults, they will have the option of doing laundry in their own space whenever they visit.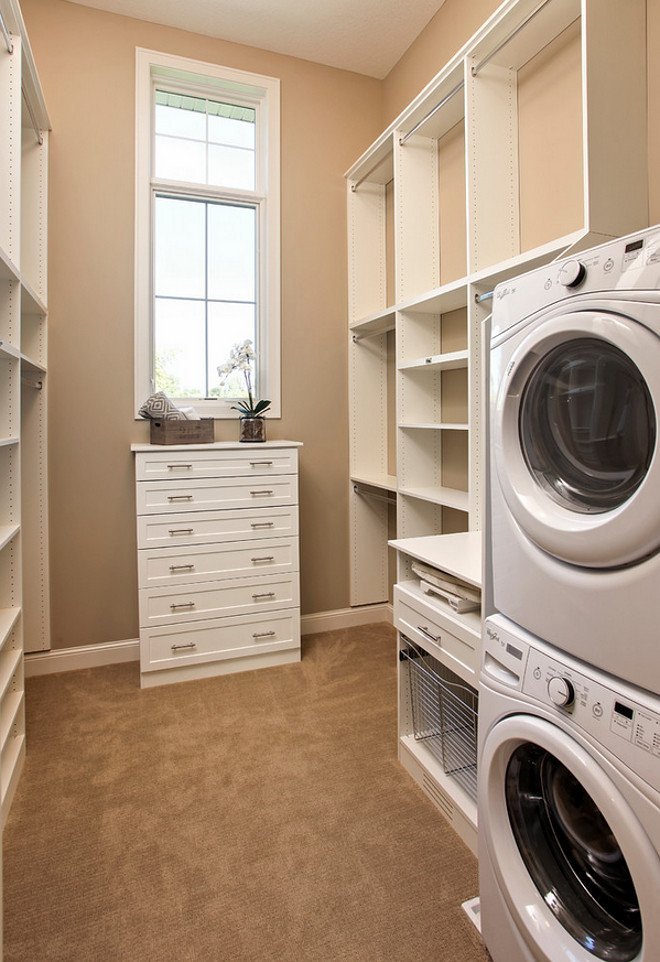 Special Considerations:
Ventilation Considerations and Plumbing Needs:
Wherever you decide to install the washer and dryer, make sure you have proper ventilation in place for safety. This includes:
A dryer vent that leads outside, not into the attic or garage
An exhaust fan on the ceiling you can switch on when doing laundry (this will help prevent the room from becoming too hot and humid).
If you prefer to place the washer and dryer in a master bedroom or a bonus room (which is often part of the Master suite setup), it's best to plan it around the plumbing so it's easy to access when customizing the new Master Closet/Laundry Suite.
Interested in advice that is specific to your space? Our experts can help you determine where your laundry machines will fit best in your home. Contact My Custom Closet today to learn more!