My Custom Closet co-owner, Jill Fulop, loves the custom closets that have been installed in her home over the years. Her favorite is the custom pantry that Bryan, husband and business partner, designed and installed in the Fall of 2021.
But after the installation, Jill had one aspect of the closet she wanted to change visually. Check out her first-person retelling below to see how she created a solution.
I love having moveable shelves in my pantry just in case I want to change the configuration of the space or make more room for taller items. However, I do not like the look of the tiny holes that the shelf pins fit into. Since the pantry is very open for all to see, I wanted to find a way to cover these holes up.
I wanted to only cover the visible holes. That way if I needed to move a shelf or two, I could uncover the holes, move the shelves, and then re-cover the holes. I don't reconfigure my pantry very often, but wanted to know that I had the option if I wanted to change things up in the future.
Adding a door wasn't an option as I wanted the pantry to be easily accessible and to be a part of the kitchen. Plus, I have a counter in there that I use it for many of the small appliances that I'm obsessed with. Not only that, but I use my crock pot, coffee maker, and instant pot in there as well because we put outlets and task lighting into the space.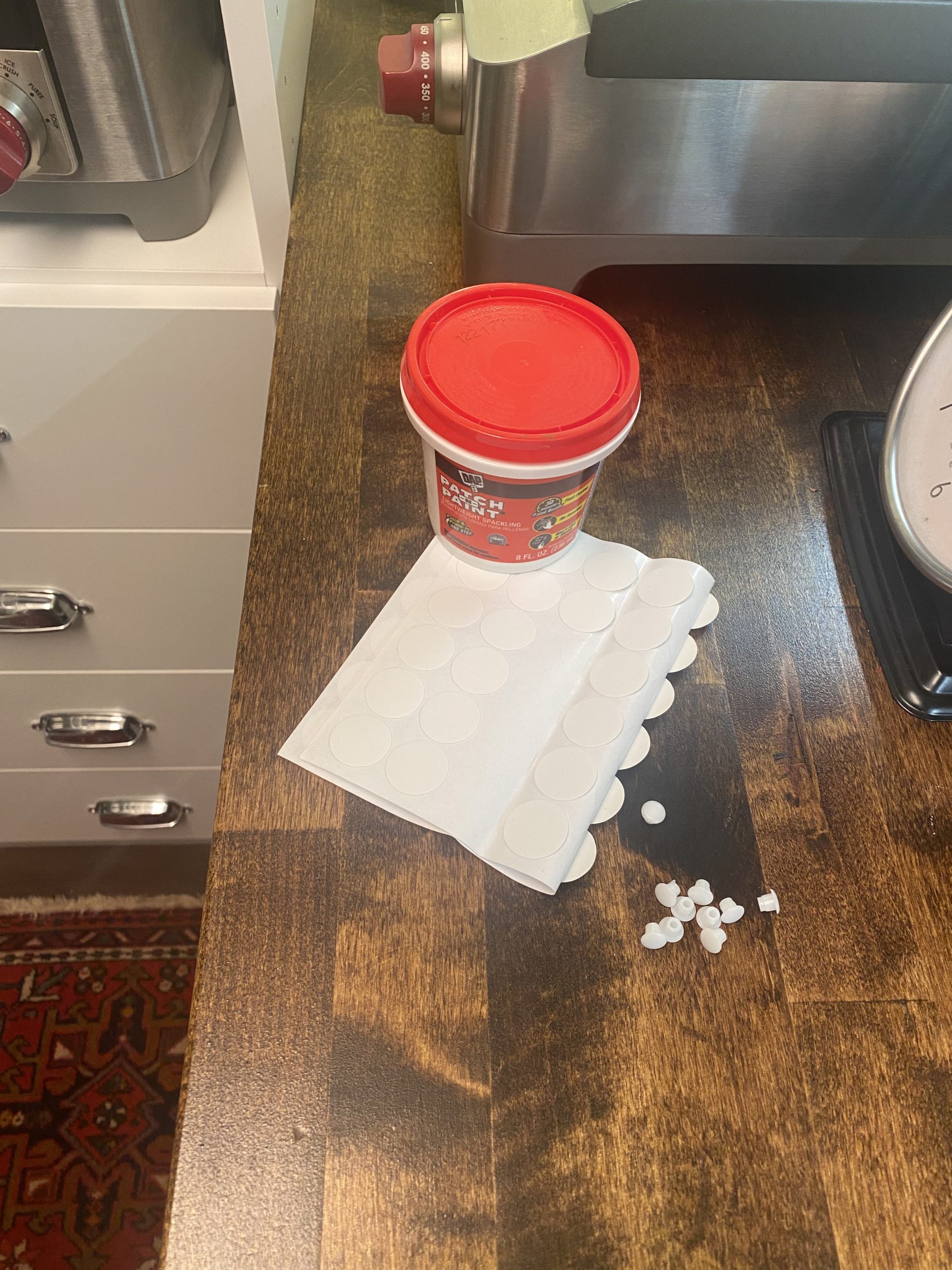 I experimented with various ways to cover the holes. It was a pretty tedious process, but I ended up finding a method that I liked best.
The three methods I tried were:
Round, melamine white stickers
White plastic hole "push pins" (designed specifically to cover the holes)
Spackle (a creative idea I came up with after some brainstorming)
I liked method #1 the least. I thought it looked like I was putting white stickers over every hole and it just looked juvenile.
The method I liked the most was #3, the spackle method. It was easiest to apply because I could cover many holes quickly. I went over them 2 times each and could have probably done a 3rd layer, but I didn't want to pack the holes too much. If I want to pick out the dried spackle in the future, I wanted to make it so that it would still be easy to get the dried spackle out of the holes.
Method #2 was almost just as good as method #3. I just think that method #3 looked the cleanest and I liked how it was flush with the vertical panel melamine finish.
Years ago I thought that solid wood would be the best for custom closets, pantries, etc. but now that I have lived with custom melamine spaces I can honestly say I love the benefits it offers:
Low maintenance
Ease of cleaning
The durability of melamine board
With the upgraded thickness of ¾ inch, it's just as nice as wood and the great thing is… I don't have to paint it!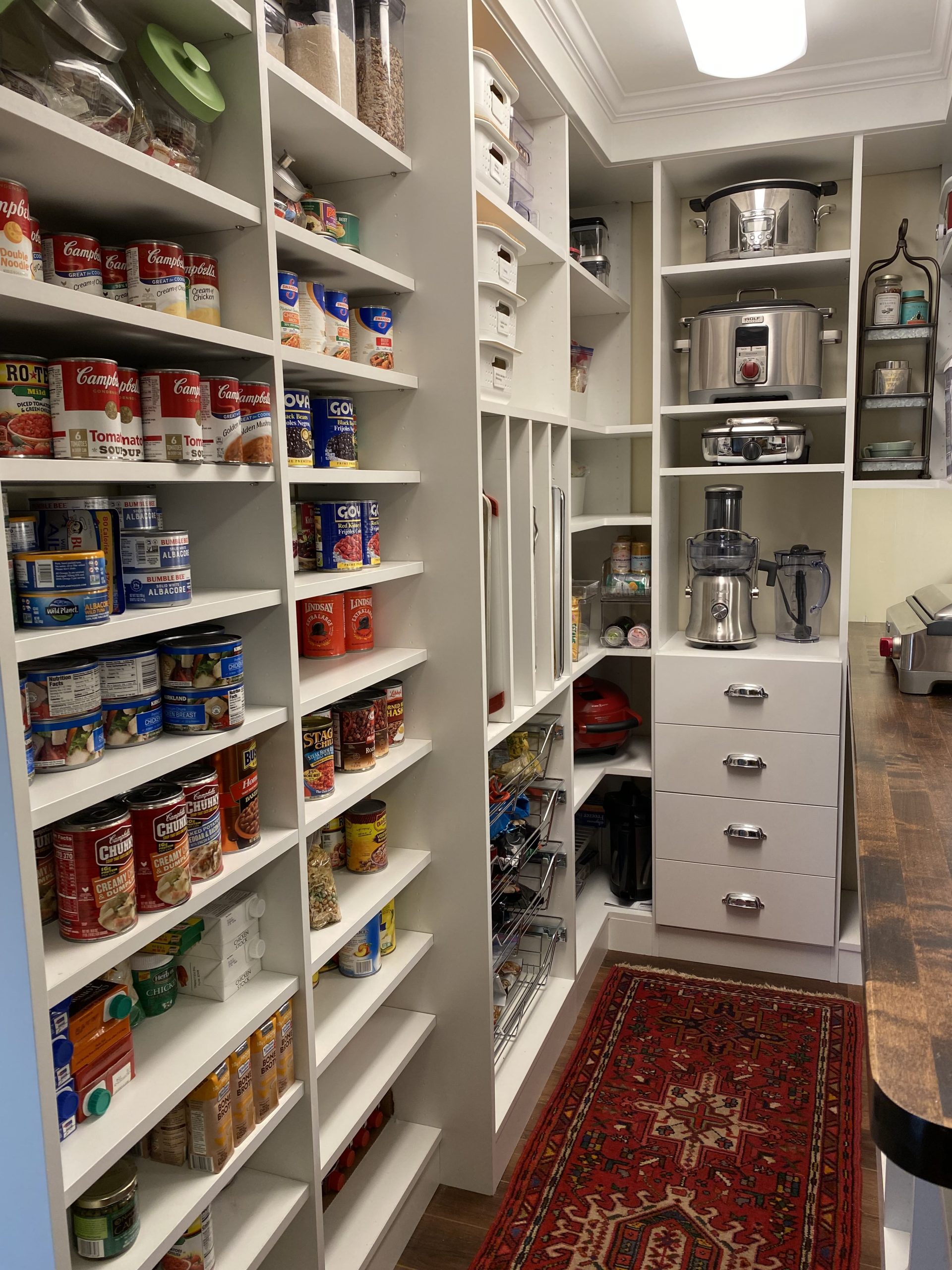 A melamine system allows you to change organizational spaces up over time. Plus, if you want a high-end look, you can easily add crown molding and other upgraded elements like hardware. You can achieve an amazing look for a fraction of the price that solid wood is, and you can also feel happy that you are saving trees and utilizing sustainable boards and materials.
Ready to transform your pantry into something as amazing and organized as Jill Fulop's? My Custom Closet is here to help! Contact us today to start creating a customized space for you and your family.