Curious about the storage differences between a Drop Zone and a Mudroom?
A Drop Zone is similar to a well designed mudroom… but on steroids (check out our post on Mudroom Inspiration here or tips on how to design your Entryway or Mudroom here!). Remember the 1980's, 1990's trend of incorporating a small writing desk area to an open-space kitchen plan? It became an extension to the kitchen counter top, with a clever little junk drawer underneath for stamps, pens, clips, etc. Now that small "office space" has been moved into the mudroom, and rightly so.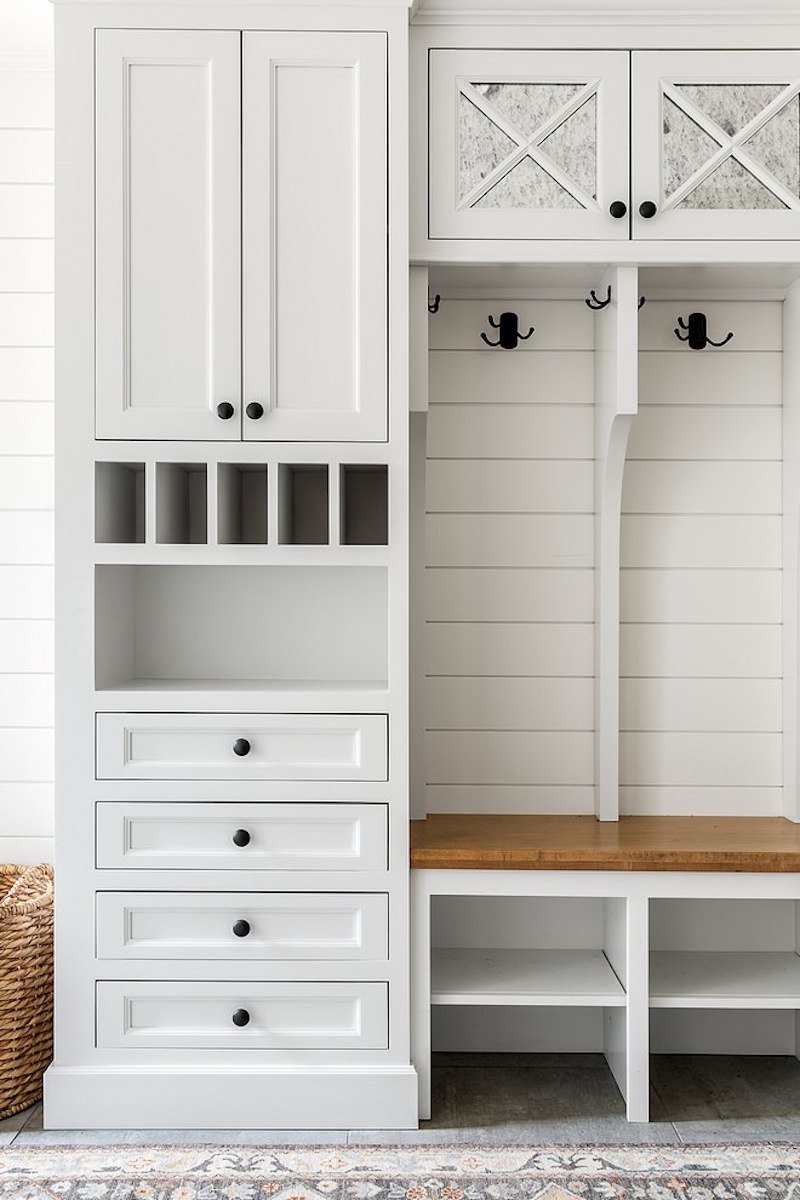 Clear out the clutter
It seems like we are constantly working at different places throughout the house now that we are so mobile with laptops, iPads and handheld devices. We can change our "office space" everyday if we want. Bills and mail have become more paperless and streamlined. There is no need for that kitchen "desk" to take up valuable real estate space amongst our small appliances, food prep, and entertainment area. In all honesty, these kitchen desks have become drop zones in the kitchen and have become major eye sores for all to see.
An organized Drop Zone
Take it to the mudroom…the entry spot. The modern Drop Zone is a place for backpacks, coats, shoes, boots, keys, massive water bottles, lunch bags, mail slots, memo boards, pet leashes, and charging stations for our devices. By the time you pass through the Drop Zone and enter the house, you should be hands free, for the most part, and you will keep your house clutter free. When you leave the house, everything you need to start your day will be in one spot. Of course, clever designing of such a space makes this area attractive and practical for all who enter your home. Cabinet doors and crown molding finish off the space and keep it clutter free looking as well as pleasing to the eye.
Upgrade your entryway today
We are down to 2 months of summer before the mayhem begins…back to school, new schedules, and better routines and habits. Now is the perfect time to call My Custom Closet, so you are ready to start anew for Fall 2019 and, as the Holiday season will be here before you know it, you will be ready for any guests and entertaining you will be doing. Your kitchen will no longer have an "office space" and clutter and you will have a perfectly efficient Drop Zone to thank for this.
Contact My Custom Closet today to upgrade your entryway storage with a Drop Zone.
References:
Lopez, Adriana. "Style, Welcoming Ambience, Functionality: Entryway & Mudroom Upgrades for Your Home." Porch, Porch.com, 4 May 2021, https://porch.com/advice/style-welcoming-ambience-functionality-entryway-mudroom-upgrades-home.