"If you can't see it, you may as well not own it."
Have you found yourself purging and reorganizing your closet these days? Hopefully your dressers as well? Now is the perfect time to be wondering… "Should I fold, hang or roll?"
The organization professionals at My Custom Closet have some tips on the best items for each method of storage. The walk-in closet below from a project in Collegeville fits the bill for plenty of folding, hanging, and rolling.
Take a look at your own closet and determine which pieces will work best in each category.
Best Clothing Items To Fold
Pro tip: Items you fold are best to put in a closet shelf space. It is better to have more shelving to keep the "stacks" in order and not from getting too high.
Athletic/athleisure wear
Sweatshirts that aren't bulky
Jeans
Casual pants
Long sleeve knit shirts
Knit skirts
Sweaters that aren't bulky
Lightweight shawls and some capes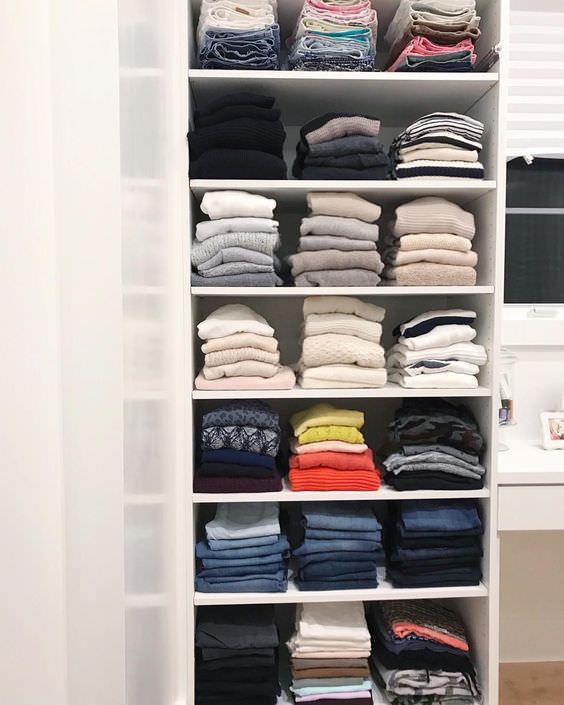 Best Clothing Items To Roll
Pro tip: Items you roll are often best in drawers or a bin on a shelf. Many of these already don't take up a lot of space – it's easy to "corral" these smaller items and to see them all at a glance in a drawer.
Folding your tees into rectangular packets and "filing" them into your drawers is another idea so you can see the folded edge of every tee in the drawer. If you have more shelf space than anything, fold and stack them.
Socks
Ties
Underwear
Leggings
T-Shirts
Scarves
Casual knit skirts
Lingerie, camis, and lightweight sleepwear
Best Clothing Items to Hang
Pro tip: Definitely hang anything that you might otherwise have to iron. Many fabrics today can skip the iron if you remove it from a hot dryer immediately before they are completely dry and shake or hand-smooth the remaining wrinkles. This method works great for wrinkle free button down shirts and slacks.
Blouses
Tunics
Sweaters that won't lose shape to a hanger or are bulky
Most tops that have zippers (make the extra effort to zip them up when hanging)
Coats, jackets, large capes or ponchos
Dresses
Formal wear
Robes
Some sleepwear (usually winter) and nightgowns
Tailored items like pants
Business Attire
In the end, you will probably have personal preferences based on how your closet is designed and the amount of drawers you have. Maybe your current closet design does not meet your expectations and your tendencies for how you prefer to store your clothing investment. Maybe you are finding that, as you go through your closet and drawers, that you are disappointed because you truly forgot about items you purchased because they have been "buried" in a bad situation happening in your storage places.
Now may be the perfect time to schedule a Virtual Consultation with My Custom Closet. Our simple 5-step process starts with pictures of your current storage situation and ends with an installation date for your dream closet. Plus, get $100 off your project after completing a virtual appointment session!
Click here to schedule a virtual constualtion and start saving!