"To Back or not to Back, that is the question…"
Many of our clients have been asking about "backs" for their closets. This is a thin board or the same ¾" material used for the rest of the closet, that is attached to, and lines, the back of a closet wall. The custom closet vertical panels and shelving are then affixed to the wall, and the closet back panel shows through.
There are definitely benefits to having a closet back panel installed when you do your upgrades. But with all benefits, there are drawbacks as well. Below are the main pros and cons of having back panels in your closet. Read on and decide for yourself.
Pros of a Closet Back Panel:
1. Clean Look
Closet back panels look very polished, especially when going for a more "upscale" theme.
2. Uneven walls? No problem.
Backing hides a multitude of "sins" from original walls. They eliminate the need to spackle and paint or wallpaper.
3. Looks Good Open
Backers are also for the person who may not even have a door for the closet, so the closet interior is highly visible.
4. A Closet You Want to Showcase
Closet back panels are perfect for the closet you want to showcase and show off to friends. This is often the closet that is large enough for an island and many "bells and whistles" like crown molding, pullout hampers, built-in benches, etc.
Cons of a Closet Back Panel:
1. Could Darken the Space
Sometimes the backboard can create a darker look in the closet if it is done with a dark color. You may want to add custom lighting because of this.
2. Not Necessary
Clothes, especially hanging, or high stacks of folded clothing, will often hide the backboard, so you can't really notice it is there.
3. Pricey
Back panels can add to your price tag for a new Custom Closet often by 10-30 % of the Grand Total. Traditional spackle repair for "wall scars" left behind from old closet wire, etc is much more cost-effective along with a fresh coat of paint.
Examples without a Closet Back Panel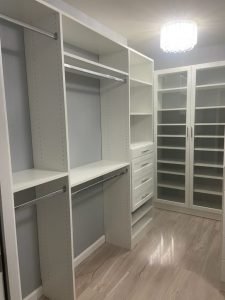 This closet the My Custom Closet team recently designed in Collegeville is a great example of how the paint adds more beauty to the custom closet – it offsets the white melamine and looks very attractive. No need for a closet back panel! The glass doors add an extra dose of class to this space.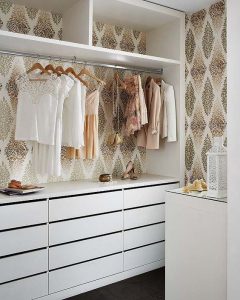 This closet shows how you can add to the design of a closet by using wallpaper instead of a closet back panel!