Having a showroom is often seen as the norm in the custom organization industry – a gleaming space filled with stylish displays, eager salespeople, and an overwhelming array of choices
We used to have a showroom in Philadelphia but we ended up leaving that location after a couple of years as it didn't get a lot of foot traffic and maintaining it was quite expensive. While some might view this absence as a drawback, we see it as our secret weapon.
By eliminating the overhead costs associated with maintaining a physical space, we're able to pass those savings on to you, our valued customers. This means you can enjoy the same level of quality and craftsmanship without breaking the bank.
But the benefits of our showroom-free approach extend far beyond affordability. It allows us to embrace a pressure-free experience for our clients, offer greater convenience, and create a relaxed atmosphere from start to finish.
Pressure-free Shopping
Showrooms can be intimidating and stressful environments. The salesperson running a showroom room is often solely focused on achieving a monthly sales goal. This can get in the way of approaching customers as humans first, and clients second.
We want you to feel comfortable and relaxed when you're working with us, so we don't create this environment to begin with. Instead, our customers can enjoy discussing their options and browsing samples with one of My Custom Closet's owners from the comfort of their own homes.
Convenience
People love it when goods and services arrive at their doorstep. When you work with us, we come to your home for a free consultation so you can save yourself the time and hassle of driving to a showroom.
Bryan Fulop, the owner and designer for My Custom Closet, will bring a sample box of melamine textures and colors. He will also bring:
A melamine shelf
Closet components
Hardware and accessories
A few drawer fronts (to show molded drawer and door wrap examples)
In doing so, Bryan can help each customer examine their options and different materials without having to schedule an outing to a showroom. Plus our melamine closets are durable, easy to clean, and can be crafted in a variety of styles depending on your needs and preferences.
We also offer customers the option of reviewing our Recent Projects page for examples of the work that we have done over the past 21 years. You can easily view our portfolio from your phone or computer. Compared to only a few vignettes that would be on display in a showroom, this is a great alternative.
A Relaxed Buying Experience
We never expect our clients to commit upon our first meeting. We give you time to think about your options and make a decision that's right for you.
We want you to be able to make an informed decision and not feel pressured to spend your hard-earned money until you've had time to think about the information we have presented to you.
To this end, we give you time to look at the materials in person, contemplate the design options, and review the quote we provide. We don't hover over you, instead, we give you time and space to think.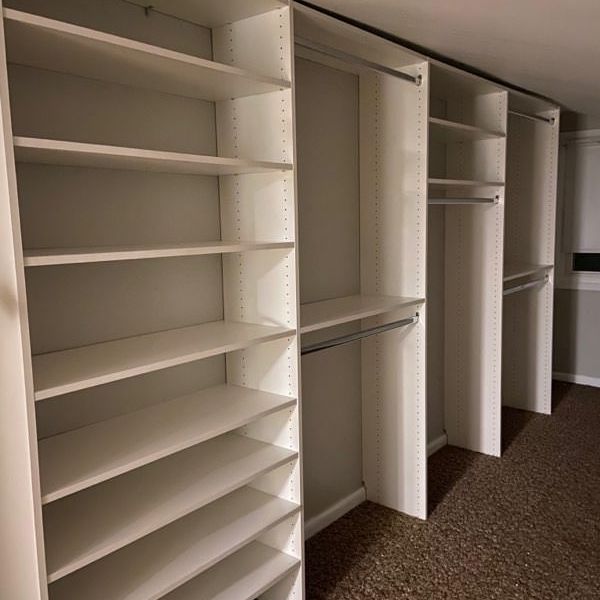 Custom Closets for Every Need
We believe that our showroom-free approach allows us to offer a better experience for our clients. By bringing our expertise directly to your home, My Custom Closet can offer customers affordable options in a convenient and pressure-free environment.
We know no two homes are the same which is why we design custom closets that fit your unique needs and space. We'll work with you to create a closet that's both functional and stylish all while providing a stress-free experience.
If you're ready to ditch the showroom hassles and experience the My Custom Closet difference, contact us today for a free consultation. Let us show you how a showroom-free approach can transform your custom closet dreams into a reality.